Fresh green beans, also known as string beans, are a versatile ingredient. This collection of vegan green bean recipes showcases the delicious ways to enjoy them, including easy cooking methods plus salads and side dishes. These creative dishes celebrate the mild taste and tender texture of this popular green vegetable.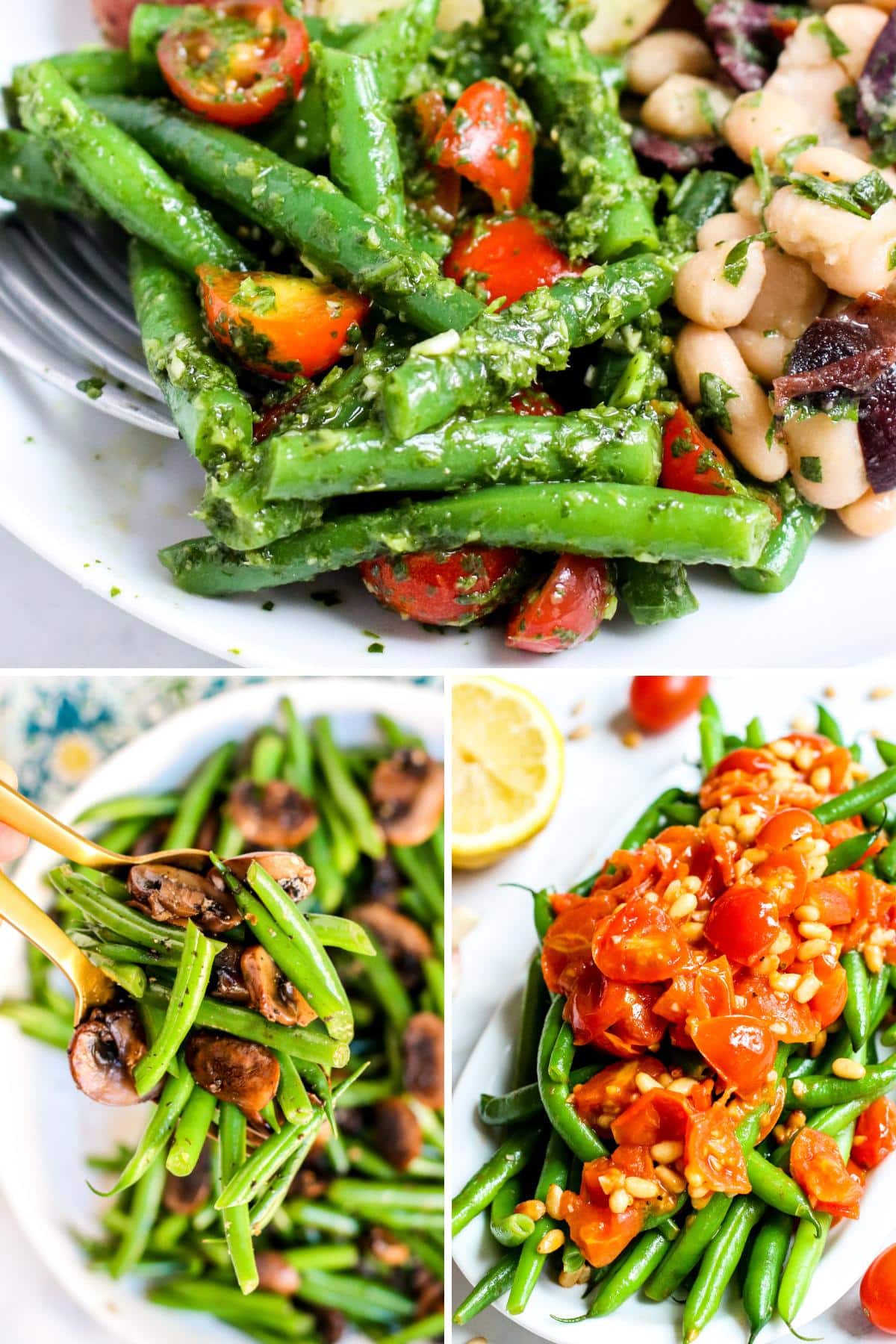 While there's nothing wrong with a simple side of streamed vegetables topped with salt and black pepper, green beans can be prepared by using a variety of cooking techniques. They can be blanched, boiled, sauteed, stir fried, air fried, pressure cooked, and even eaten raw.
And their mild flavor pairs well with other ingredients like garlic, lemon, tomatoes, potatoes, and fresh herbs.
So the next time you purchase some from your local supermarket or farm stand, try one of these exciting vegan green bean recipes. Your tastebuds will thank you.
Jump to:
Why you'll love these vegan green bean recipes
They're easy to prepare and showcase the versatility of fresh green beans.
They're plant-based and can be made gluten-free.
They include both classic and new ways to enjoy the popular vegetable.
Green beans FAQs
What is the best way to store fresh green beans?
Store unwashed green beans in a plastic bag in the crisper drawer of the refrigerator for up to a week.
Do I need to prep fresh green beans?
Fresh green beans should be rinsed before cooking. Remove and discard the hard stems by snapping them off or by trimming them with a knife. Also cut off any brown spots or blemishes.
How do you know when green beans are done cooking?
Green beans should be cooked until they are tender, yet crisp. You can test them for doneness by biting into a cooled bean or piercing it with a fork.
Can fresh green beans be frozen?
If you have excess fresh green beans you want to freeze, first rinse them and trim off the hard stems. Next, quickly blanch them in boiling water then transfer them to an ice bath.

When cool, pat them dry and spread them out in a single layer on a baking sheet and put it in the freezer for an hour. Finally, transfer the frozen beans to a freezer bag and store them in the freezer for up to 12 months.
Simple cooking methods
Many of the recipes in this collection call for quickly blanching the green beans. This means they are cooked until just tender and bright green in a pot of boiling water, then immediately transferred to an ice water bath to shock them and stop the cooking.
But blanching is not the only way to prepare them. Other simple cooking techniques include air frying, pressure cooking, and sauteing.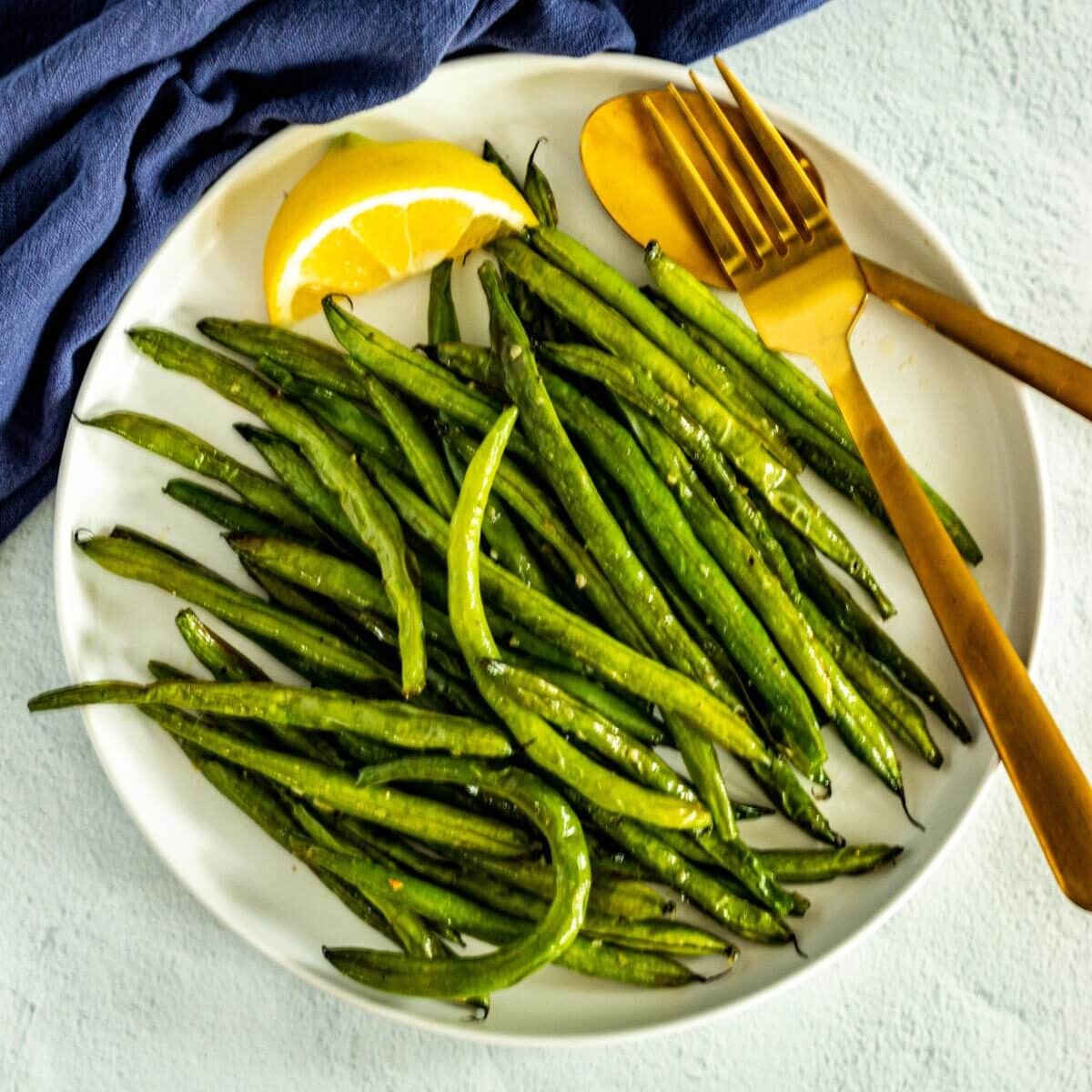 Air Fryer Green Beans
Preparing green beans in an air fryer takes less than 15 minutes from start to finish. A squeeze of lemon after they're done cooking enhances their fresh flavor.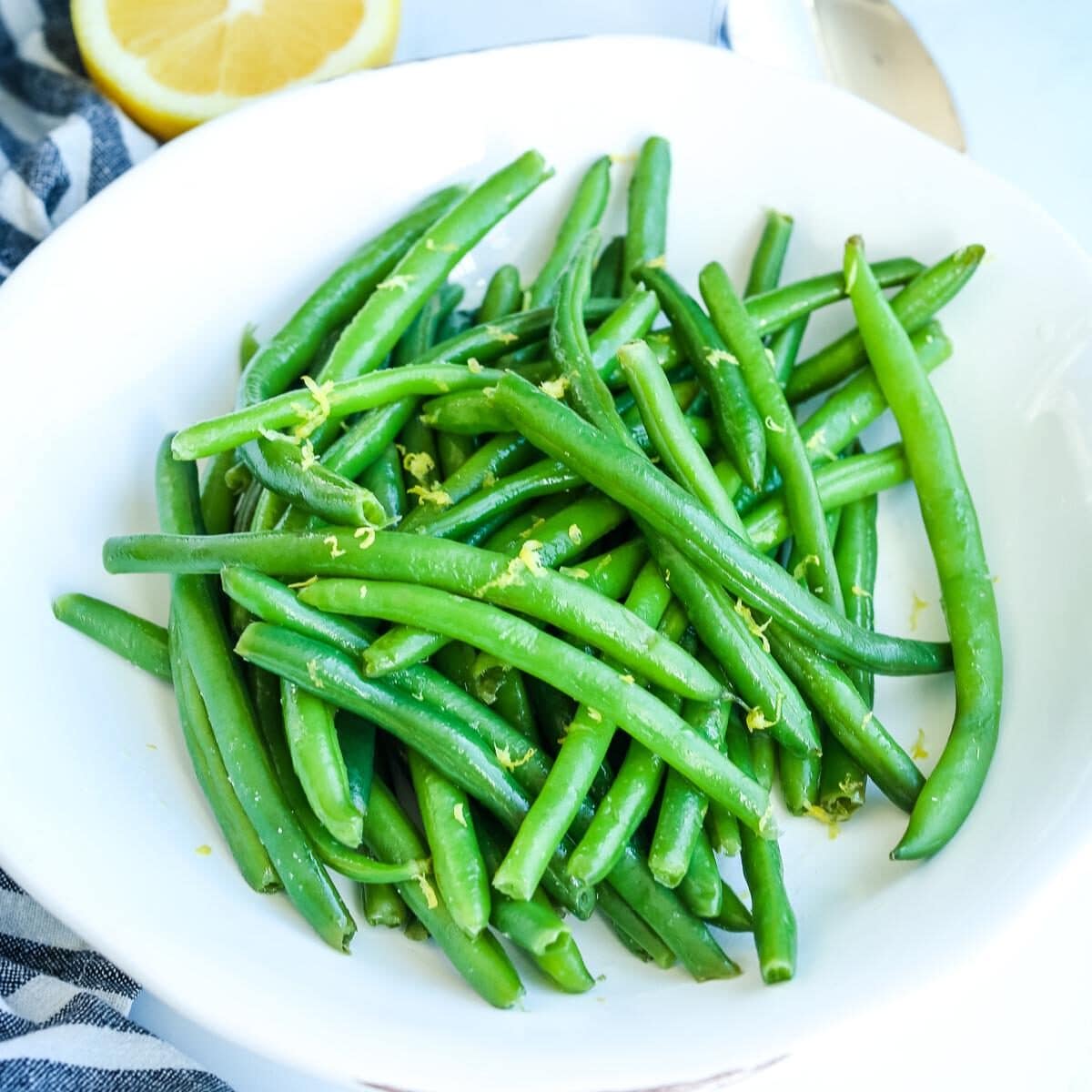 Instant Pot Green Beans
Using an Instant Pot to cook green beans is another quick and foolproof method from Happy Healthy Momma. Season the vegetables with fresh lemon and a drizzle of olive oil for a simple and effortless side dish. Or slice them and add them to salads.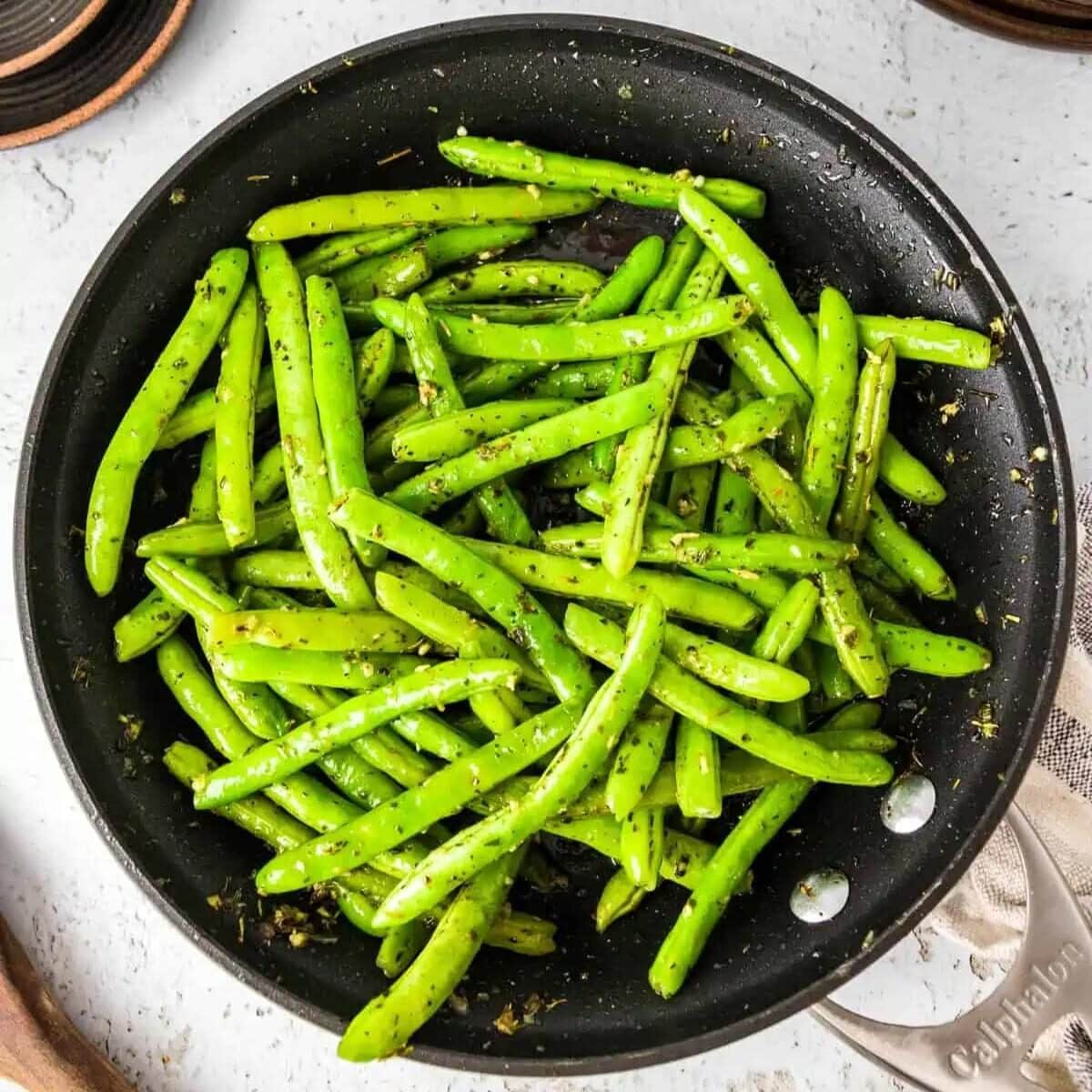 Sauteed Green Beans
If you don't have an air fryer or pressure cooker, another easy cooking method is sauteing the veggies in a skillet. Sauteed Green Beans seasoned with garlic and Italian seasoning are perfectly tender and ready to enjoy in 15 minutes. This easy recipe is courtesy of Veggie Inspired.
Vegan salads
Green beans are a the star of these tasty vegan salads without lettuce. First the green beans are blanched until bright green and tender to the bite. Then they are combined with ingredients like onions, tomatoes, potatoes, and fresh herbs for a delightful combination of flavors and textures.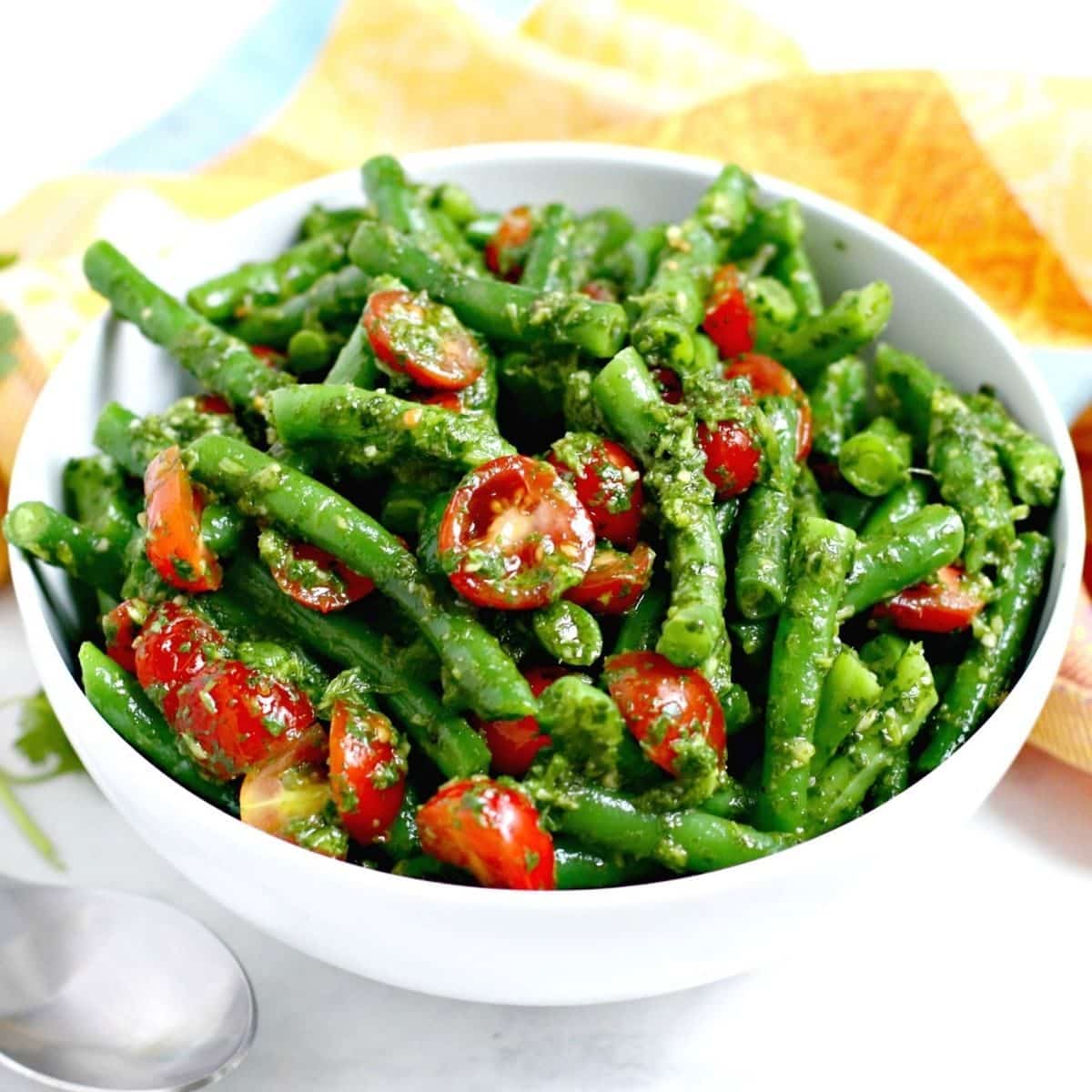 Mediterranean Green Bean Salad
Tossed in a lemony cilantro dressing, you'll love the bright flavors of this mouthwatering Mediterranean Green Bean and Cherry Tomato Salad. But if you're not a fan of cilantro, fresh basil or parsley are wonderful substitutes.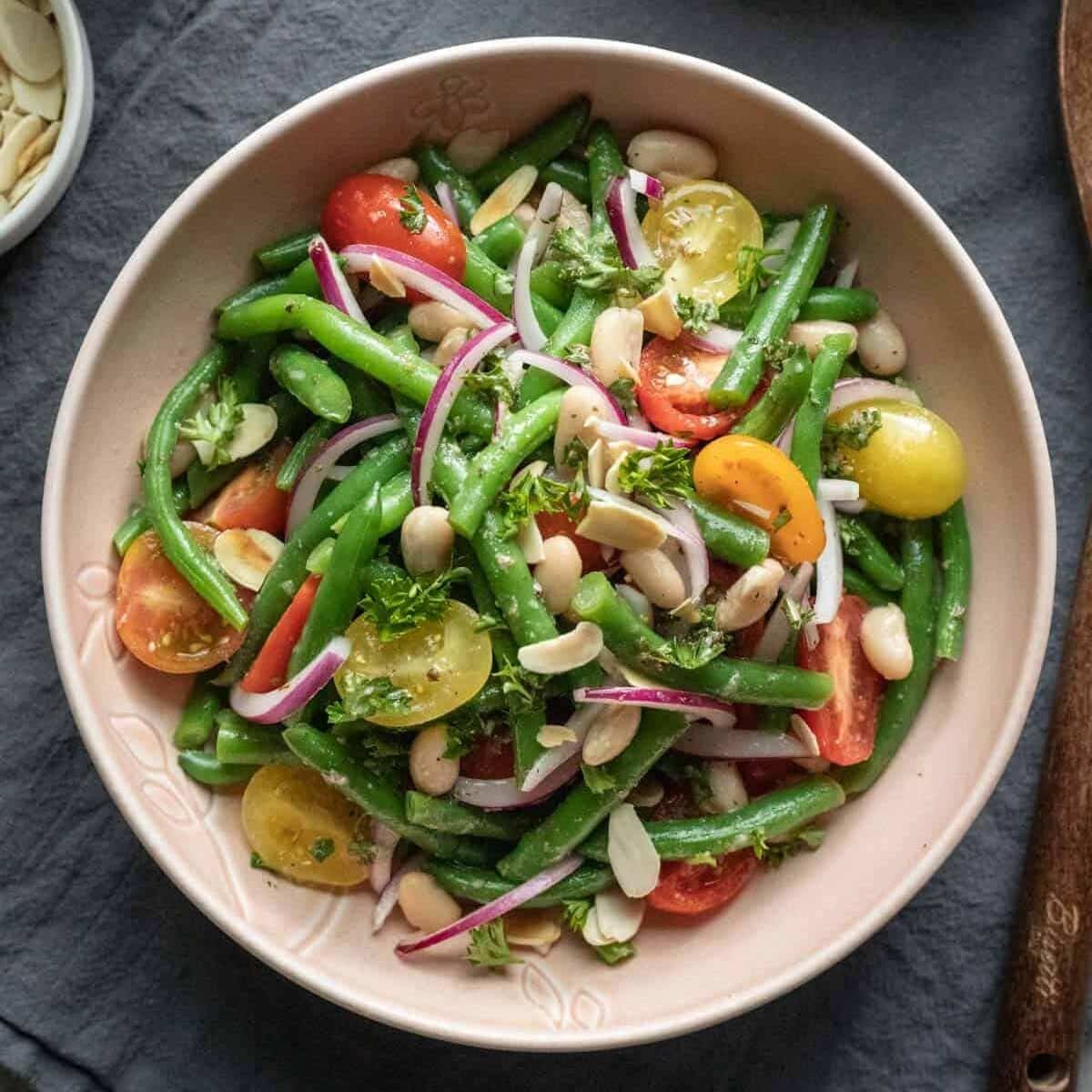 Italian Green Bean Salad
Featuring red onion, cannellini beans, and a zesty dressing, this Italian Green Bean Salad from My Quiet Kitchen is a spring and summer favorite. Enjoy it as a light meal on its own or as a side salad.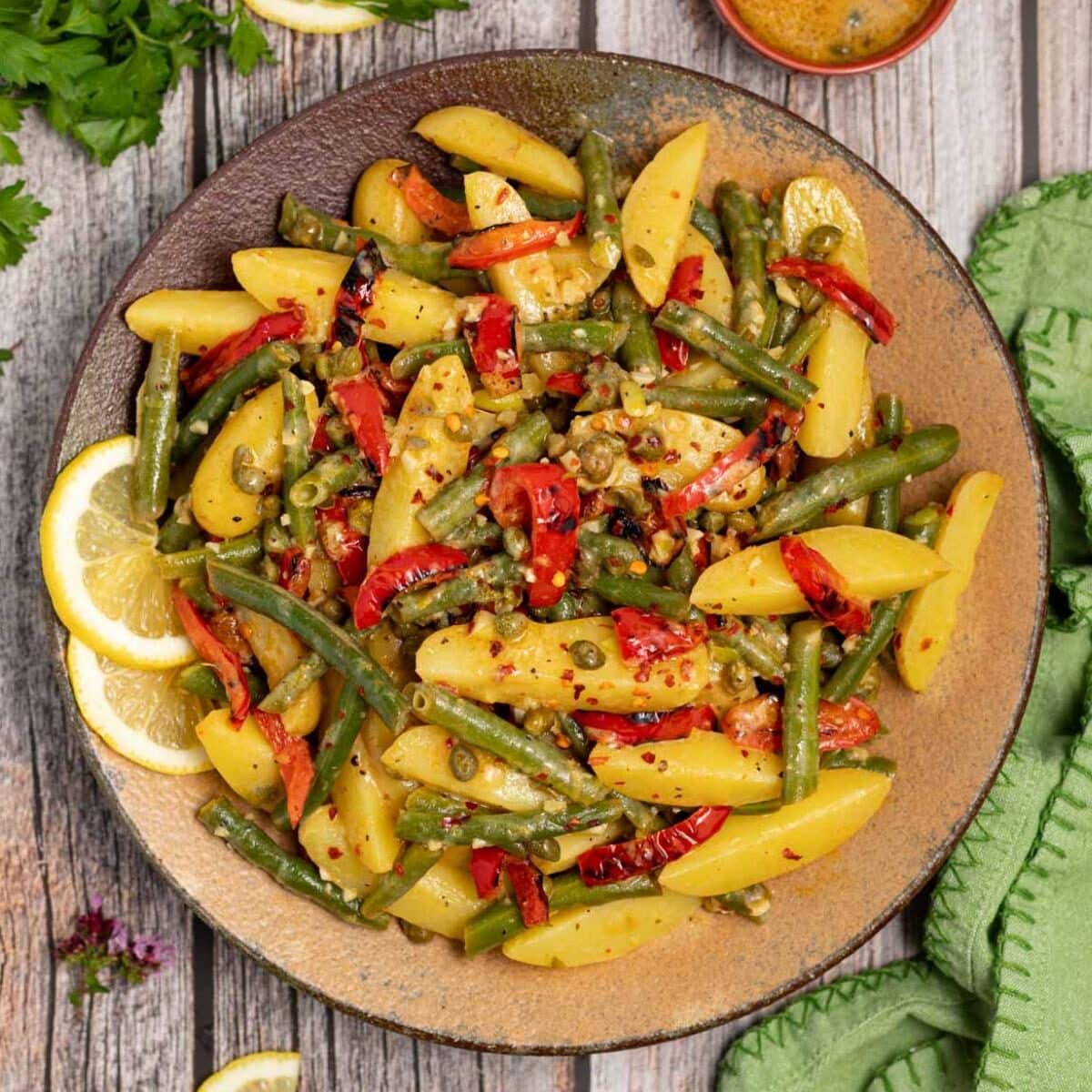 Green Bean Potato Salad
This Green Bean Potato Salad from A Virtual Vegan is loaded with tangy flavors from lemon, capers, and Dijon mustard. And it's delicious served warm or cold.
Vegan side dishes
These recipes for vegan green bean sides combine the tender vegetable with complementary produce like mushrooms, tomatoes, and potatoes. You may be tempted to skip the main dish and make these sides the stars of your table!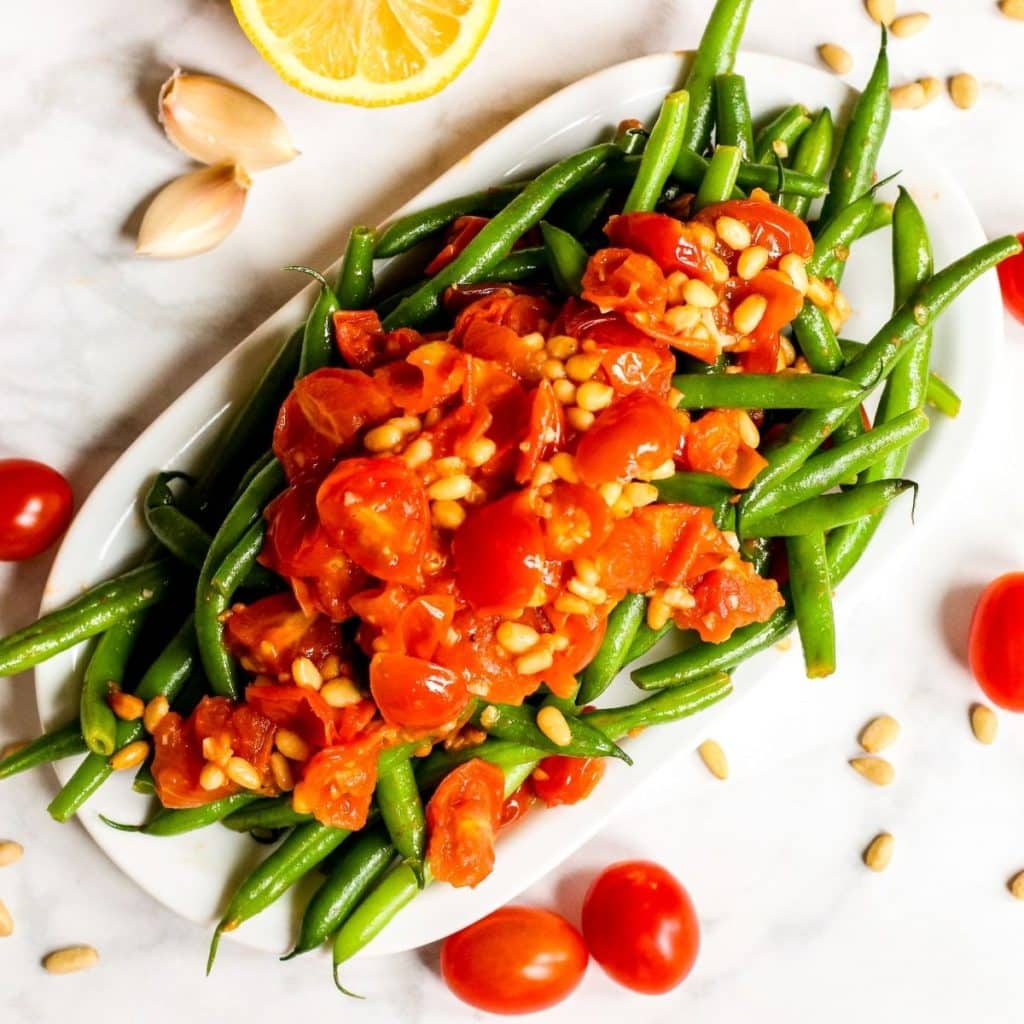 Italian Green Beans and Tomatoes
Inspired by Pasta Pomodoro, this Italian green beans recipe features sauteed fresh tomatoes, garlic, and pine nuts. A squeeze of lemon at the end ties the flavors together. Turn it into a main dish by tossing the finished green beans and tomatoes with al dente penne or fusilli.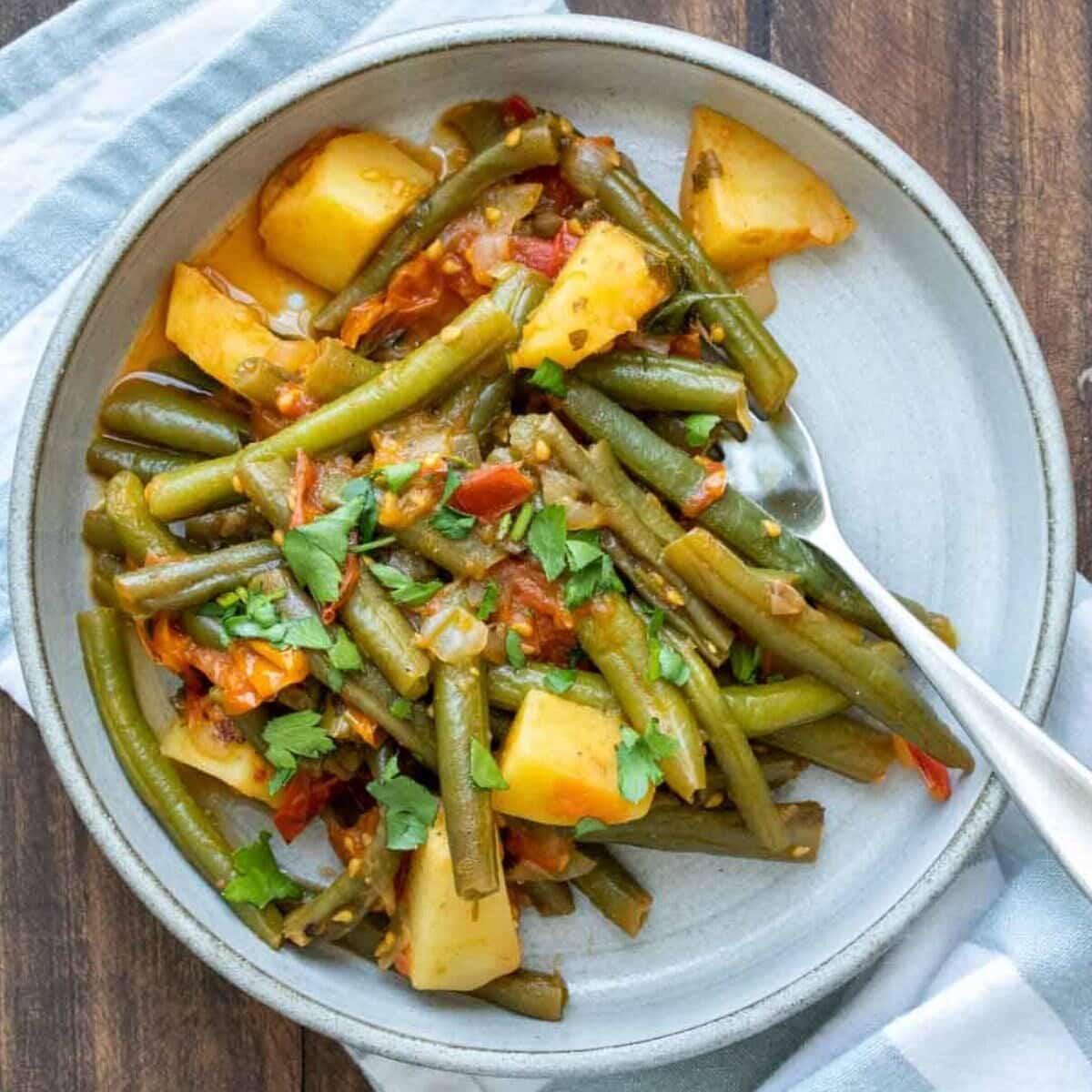 Greek Green Beans
Known as Fasolakia, Greek Green Beans is a classic dish starring green beans and potatoes braised in a seasoned tomato sauce. This recipe from Veggies Don't Bite is ready in only 40 minutes.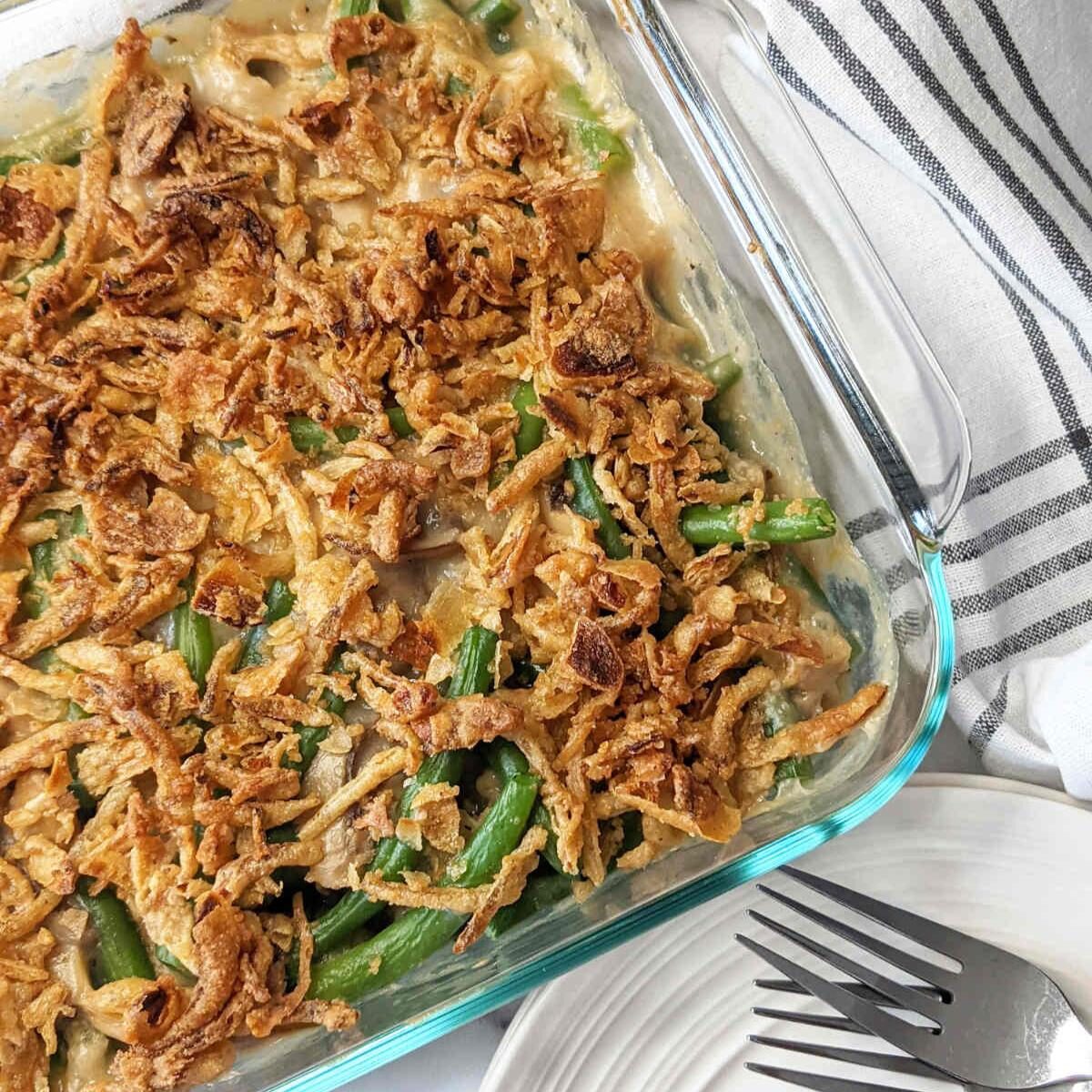 Vegan Green Bean Casserole
While traditionally made with canned condensed soup and milk, this Dairy-Free Green Bean Casserole from Health My Lifestyle is just as delicious and only requires 9 ingredients. And it only takes 30 minutes to make!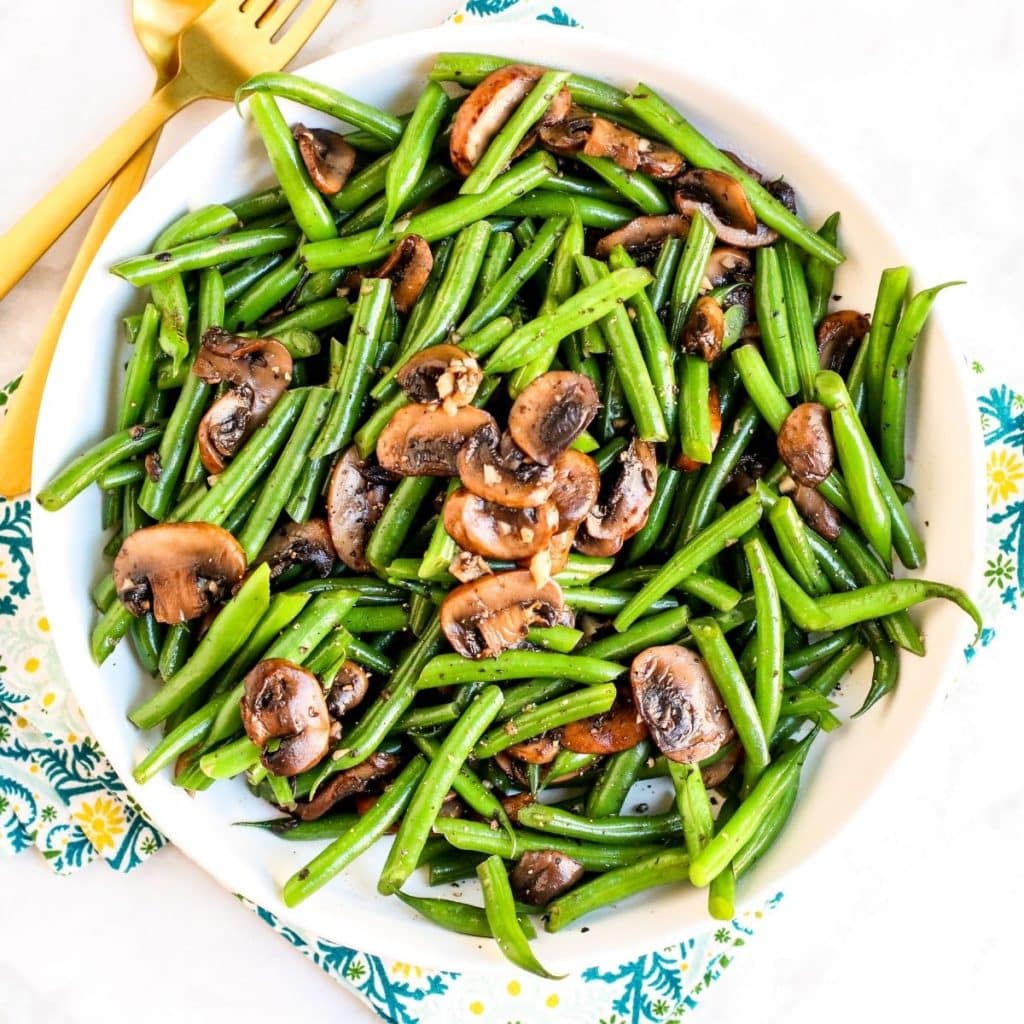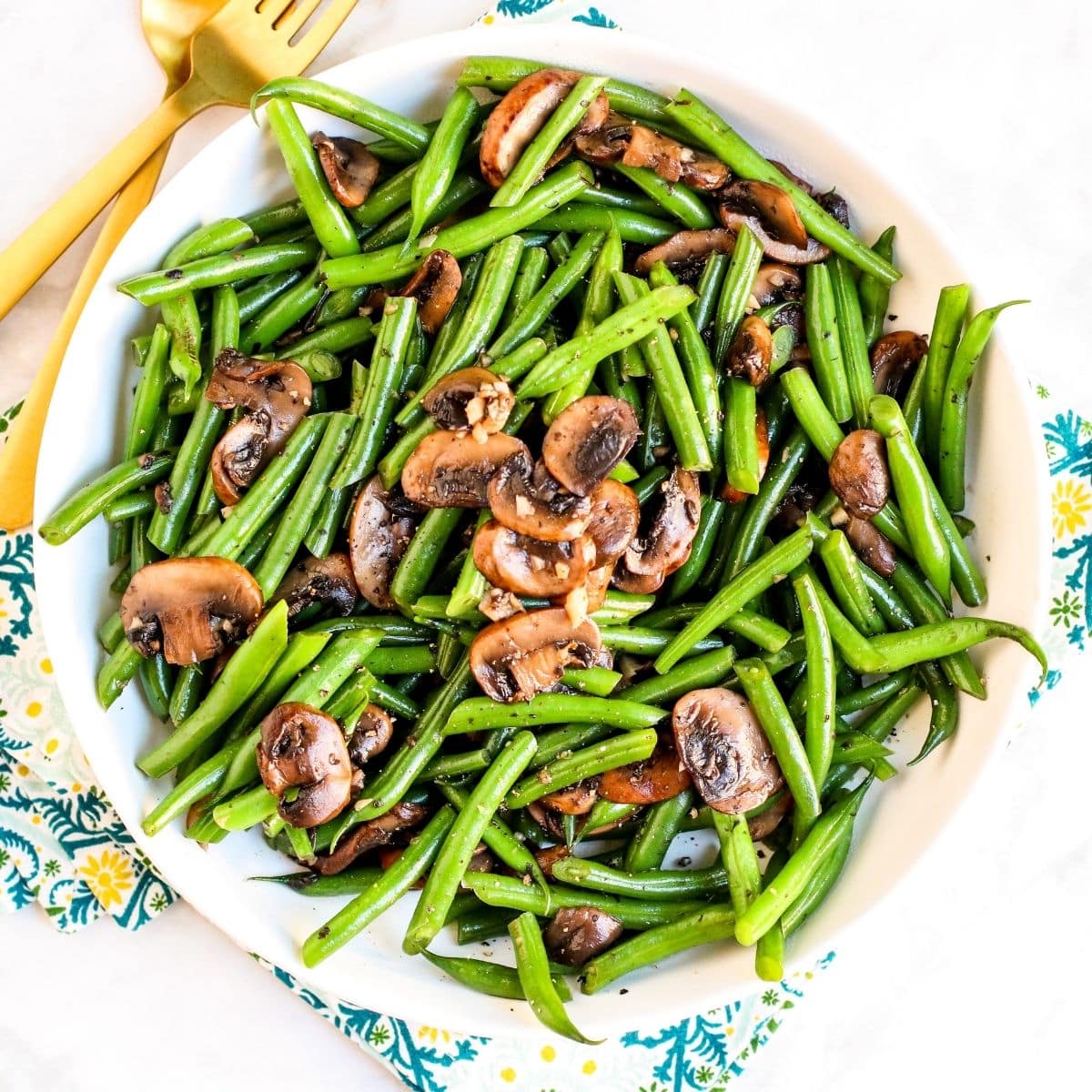 Fresh Green Beans with Mushrooms
For a lighter take on the classic holiday casserole flavors, you can't go wrong with Fresh Green Beans with Mushrooms. This simple 20-minute recipe only requires 4 ingredients. And blanching the green beans before adding them to the sauteed mushrooms results in the perfect texture. It's a favorite side dish year round!
Conclusion
With all the different ways they can be prepared, it's no wonder green beans are such a popular vegetable. And since they are available year round, you can experiment with them in a wide variety of vegan green bean recipes to discover your favorites.
If you enjoyed this recipe collection, check out my other fresh produce roundups for vegan recipes with asparagus and vegan recipes with potatoes.
And for even more delicious vegan recipes, join the Vegan Mediterranean Diet Recipes Facebook Group for support, inspiration, and fun.