With this comprehensive collection of more than 20 Vegan Asparagus Recipes, you'll discover the best ways to enjoy this delicious vegetable . You'll find everything from soups and salads to side dishes and main courses. Plus tips for prepping and storing!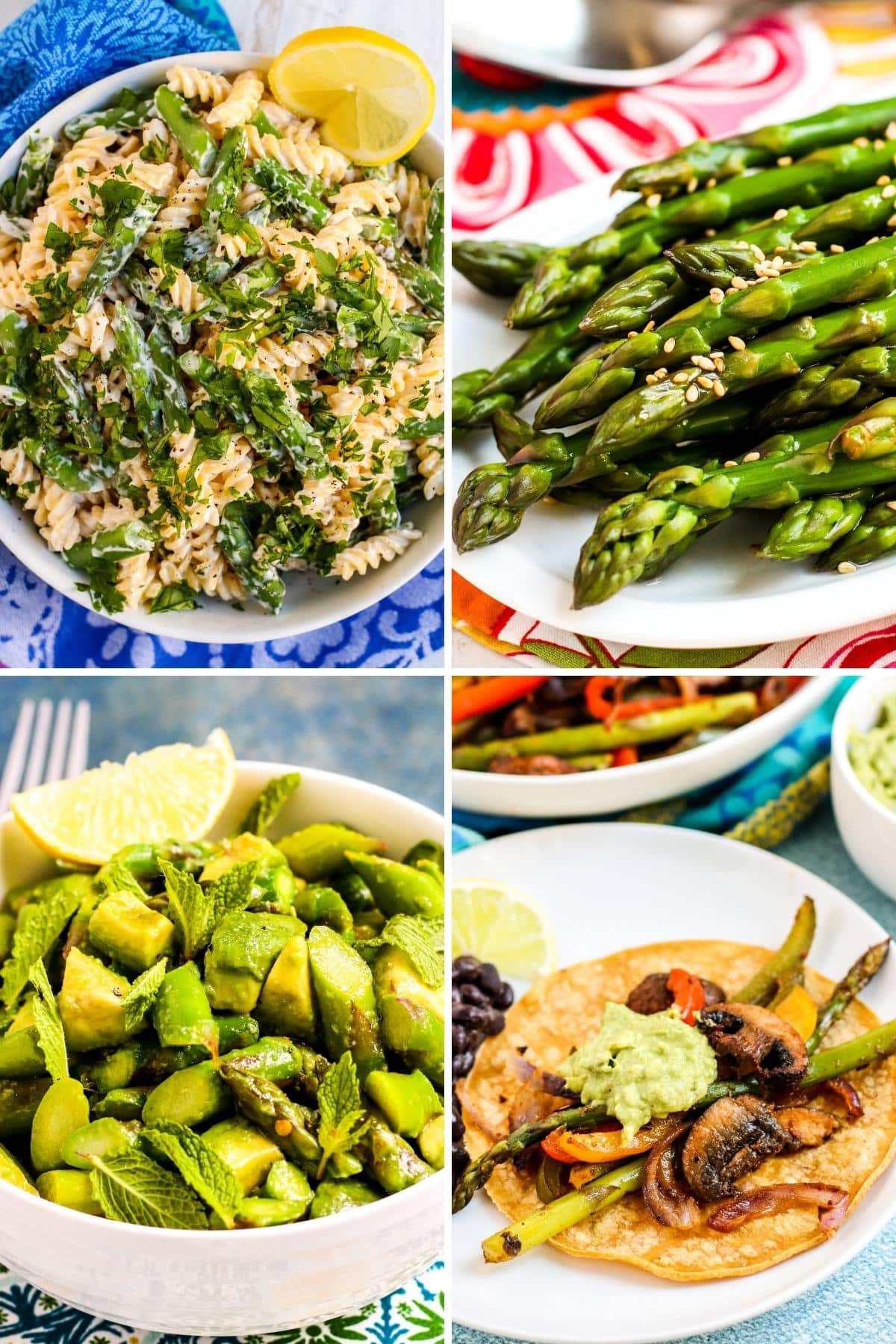 Jump to:
Asparagus FAQs
Vegan asparagus salad recipes
For using in salads, asparagus can be blanched, roasted, or kept raw. These easy vegan asparagus recipes showcase these different options.
Vegan asparagus soup recipes
The texture of asparagus works particularly well in creamy vegan soups. And reserving some of the tips makes a wonderful garnish.
Asparagus and mushrooms are a match made in heaven in this creamy and hearty Asparagus Mushroom Soup from Get Set Vegan. The sauteed vegetables on top make it feel extra fancy, but it's easy to make in 30 minutes.
Vegan asparagus side dish recipes
These asparagus side dishes pop thanks to seasonings and sauces. They're easy to prepare, even on busy weeknights.
Roasted Asparagus with Pico de Gallo from Fit Meal Ideas features the vegetable cooked without oil. Then it's topped with a fresh salsa made with tomatoes, onion, and serrano pepper.
Vegan asparagus main dish recipes
Asparagus is distinctive enough to be the star of the dinner table. Try it in pasta, stir fry, tacos, one-pot meals, and more.
Asparagus is the perfect addition to these Vegan Tacos with Refried Cannellini Beans from Eat Love Eat. Serve them with pickled red onions and your favorite toppings.
This Pesto Quinoa Bowl from ShortGirlTallOrder features roasted asparagus, corn, and mushrooms. Make the pesto yourself or use store-bought for this complete meal in a bowl.
Preparing this delicious Vegan Lemon Asparagus Orzo with Chickpeas is a breeze! You only need one pot, 5 simple ingredients, and 30 minutes. It's a complete and satisfying meal perfect for busy weeknights and make-ahead dinners.
Conclusion
Asparagus is a versatile vegetable that's easy to incorporate into a variety of dishes. You can add it to salads, blend it into soups, serve it as a side, or create a complete main dish meal around it.
I hope you pick up some asparagus the next time you're at your local supermarket or farmers market so you can enjoy these easy vegan asparagus recipes.
Leave a comment below and let me know which ones you like the best!
More vegan recipe collections
And for even more recipes, join the Vegan Mediterranean Diet Recipes Facebook group for support, inspiration, and fun.