Skip the coffee shop and learn how to make a creamy vegan Oat Milk Matcha Latte at home, both hot and iced, with only 3 ingredients! It's so easy and more economical. Plus this recipe uses pure maple syrup instead of processed sugar, and you can control the level of sweetness.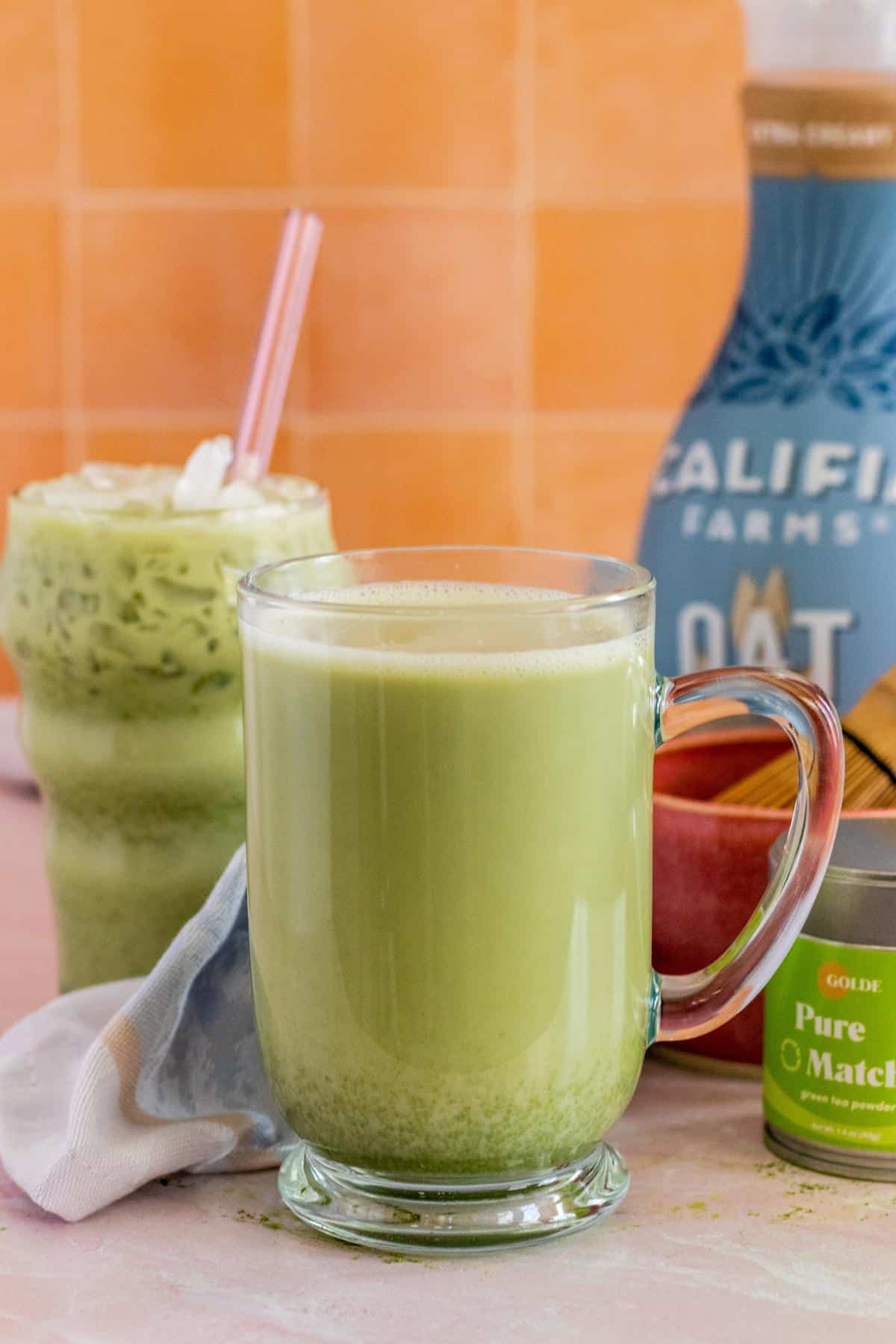 It's no secret that I'm a big fan of matcha green tea. I use the vibrant green powder to make everything from a Banana Matcha Smoothie to Matcha Balls to Matcha Overnight Oats.
But if you're looking for a more traditional way to enjoy it, you can't go wrong with an Oat Milk Matcha Latte. While I do love making layered strawberry iced matte lattes in the summer, this simpler recipe is my go-to year round.
It's quick to prepare either hot or iced, and it tastes just as good, if not better, than what you can get at your local Starbucks or other cafe.
Jump to:
Why you'll love this recipe
You only need 3 ingredients to make it, and no fancy equipment.
It's refined sugar-free and you can control how sweet it is.
You can enjoy a tea house or coffee shop experience at home whenever you like!
Ingredients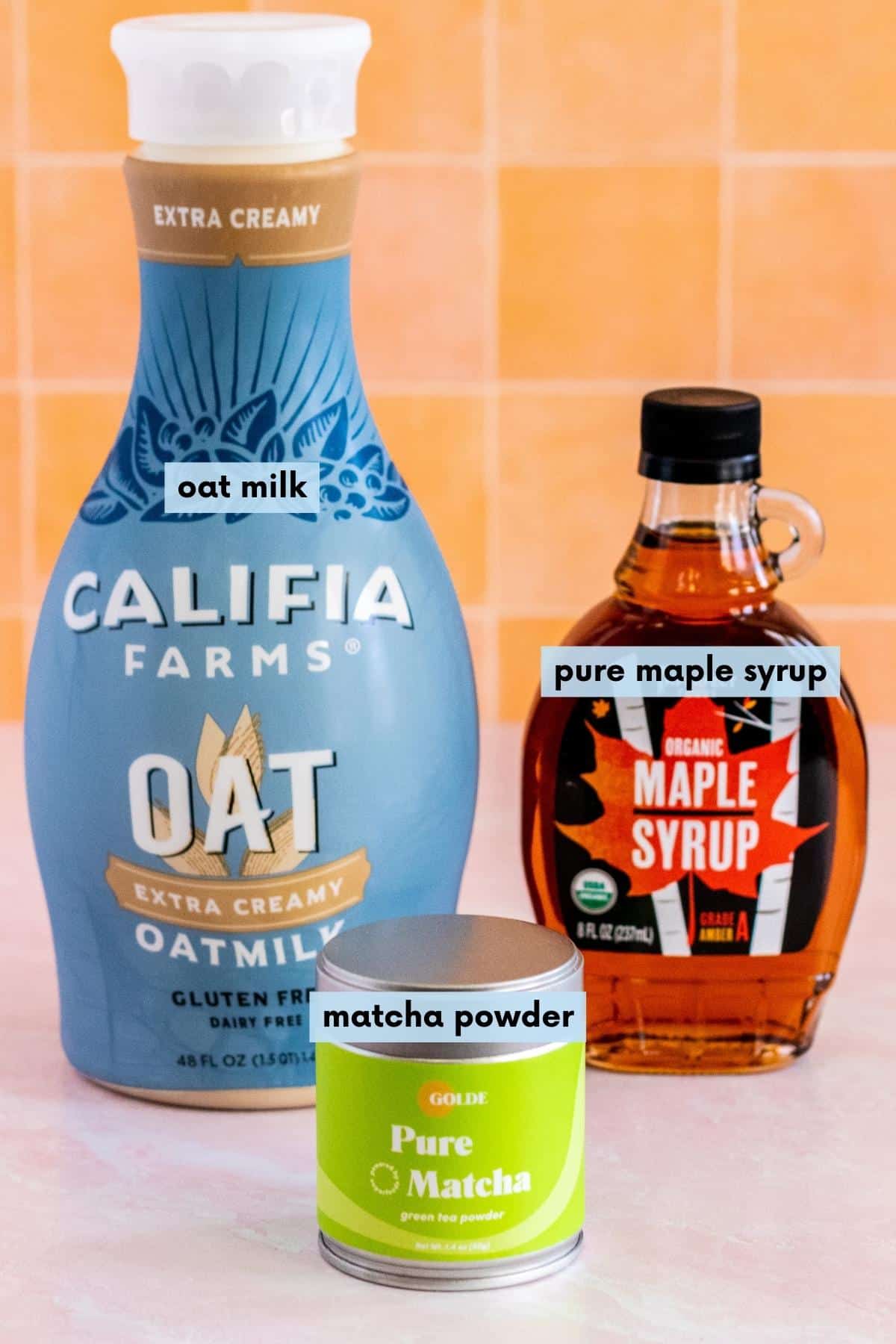 Oat milk: Popular brands include Califia (which I used in this recipe), Oatly, Silk, Planet Oat, and Trader Joe's. Each brand varies in taste and ingredients. If avoiding added sugars and oils is important to you, check the label before buying.
Substitutions and variations
If you prefer a different dairy free milk, soy milk, almond milk, coconut milk, and cashew milk are good substitutes for the oat milk.
Use your favorite liquid sweetener of choice, such as monk fruit, stevia, yacon syrup, or agave syrup, in place of the pure maple syrup.
Add a splash of vanilla extract.
Boost your latte by stirring in 2 teaspoons of Coconut Collagen.
Add boba (tapioca balls) to make it a bubble tea.
Use a milk frother or Superwhisk to add a layer of creamy foam on top.
For the complete list of ingredients with measurements plus recipe instructions, please see the recipe card at the bottom of this post.
Equipment
While it's common to prepare matcha green tea with a bamboo matcha whisk, it's not a requirement. You can use a small stainless steel whisk instead. The key is that the powder is completely combined with the hot water so that no clumps remain.
Instructions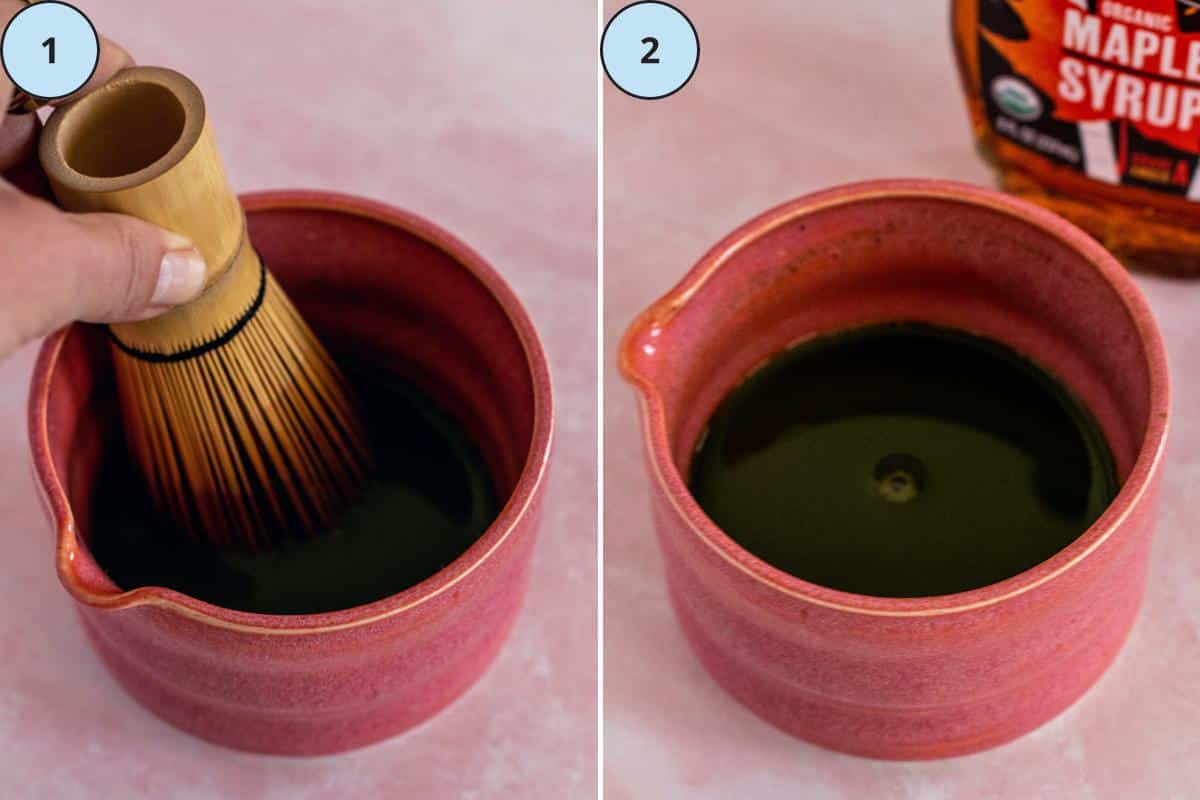 Whether you decide to make a hot or iced Oat Milk Matcha Latte, the first steps are to prepare the matcha.
Add the powder to a small bowl or mug. Pour a little hot (not boiling) water over it and whisk until the powder is dissolved.
Add the maple syrup and whisk again to combine.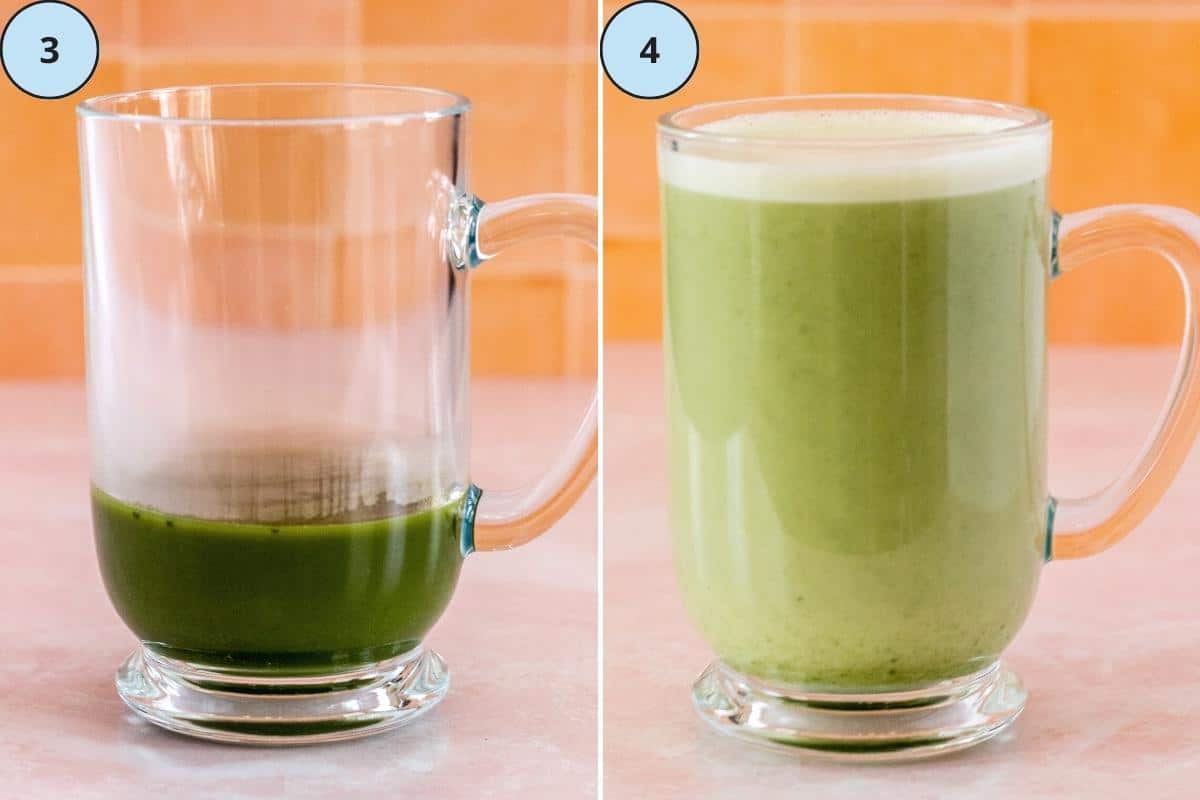 Then if you are making a HOT latte:
Pour the matcha mixture into a mug. Heat the oatmilk in the microwave or in a small saucepan on the stove.
Pour the warm oat milk over the matcha, stir, and enjoy.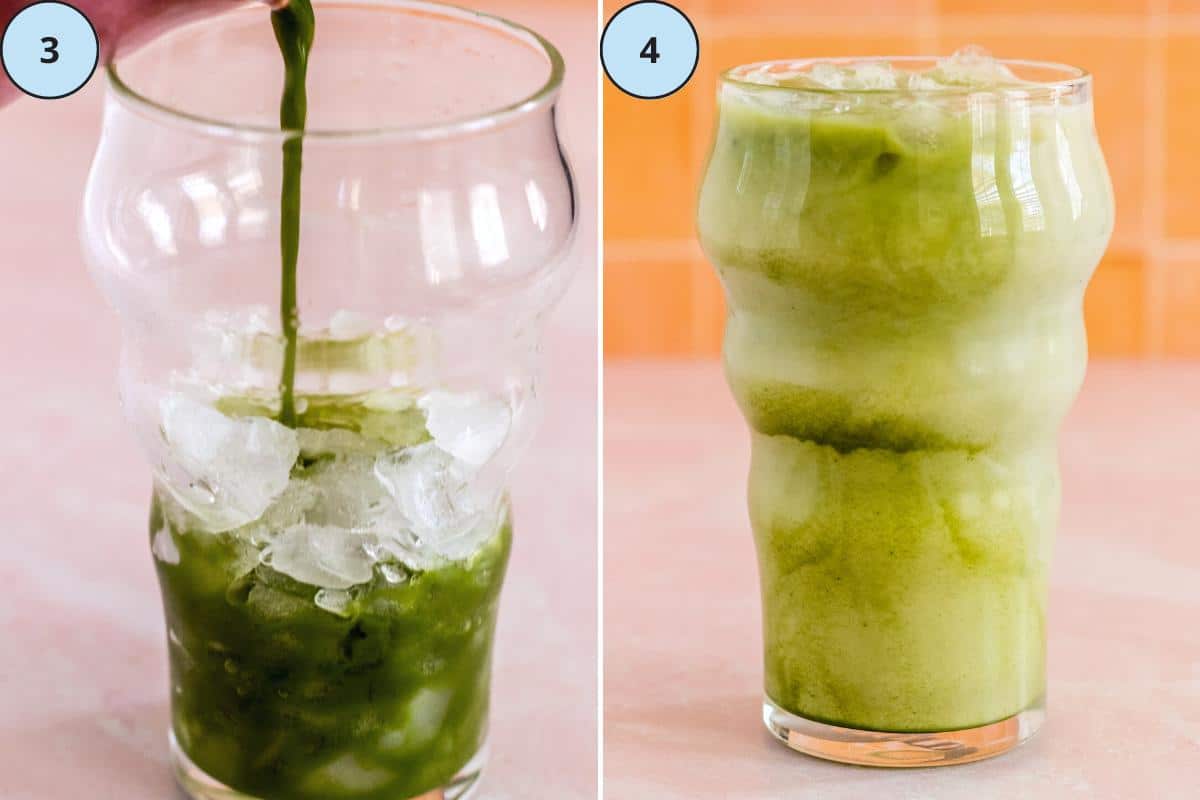 Or if you are making an ICED latte:
Add ice (cubes or crushed) to a glass. Pour the prepared matcha over the ice.
Pour cold oat milk over the matcha, stir, and enjoy.
Serving suggestions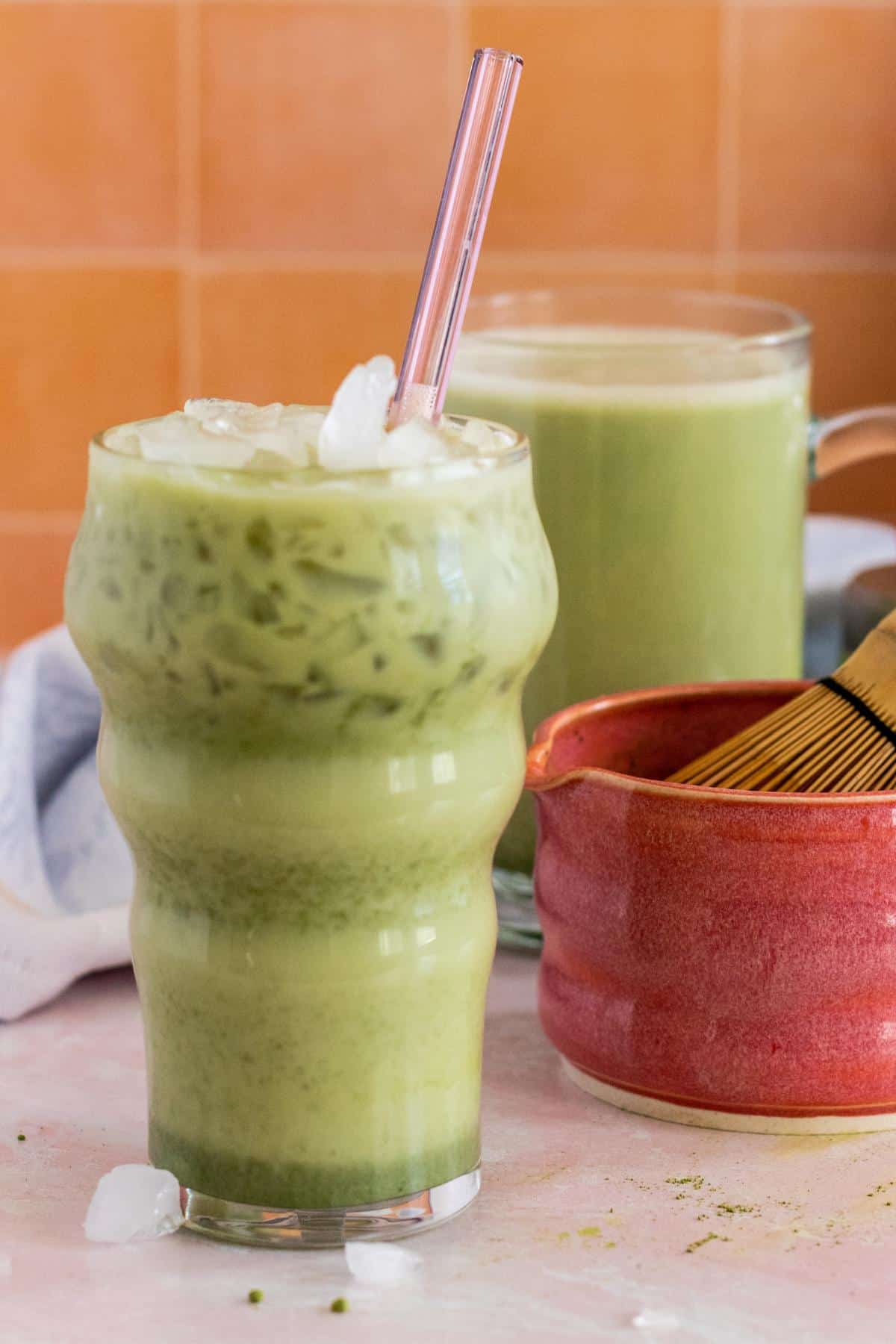 Whether you choose to make yours iced or hot, a matcha latte with oat milk is a delicious alternative to coffee and espresso drinks. While they do contain caffeine, they tend not to give the "caffeine jitters".
Try one at breakfast or as an afternoon pick-me-up. They pair well with tomato avocado toast, breakfast chia pudding, and fresh fruit.
Storing
Oat Milk Matcha Lattes are best enjoyed as soon as you make them.
If your hot latte becomes too cold, you can reheat it in a microwave.
Recipe FAQs
What is matcha powder?
Matcha powder is a form of green tea which is made by grinding the tea leaves into a fine powder. Unlike other varieties like sensha, where the green tea leaves are steeped in hot water and then discarded, matcha is made by whisking the powder with hot water so that the entire leaf is consumed. This results in a more potent flavor and a higher caffeine level.
What is the difference between ceremonial matcha and culinary matcha?
Ceremonial-grade matcha is made with younger tea leaves than culinary-grade matcha. While both can be used for beverages, ceremonial matcha has a more vibrant color and tends to be less bitter than culinary matcha.
Is matcha healthy?
Matcha green tea has numerous health benefits. It's rich in antioxidants, potentially protecting the liver, enhancing brain function, reducing the risk of cancer, promoting heart health, aiding in weight loss, and more. Furthermore, the high levels of flavonoids and L-theanine in matcha have a calming impact by increasing the levels of serotonin and dopamine in the body.
More vegan matcha recipes
And for even more recipes, join the Vegan Mediterranean Diet Recipes Facebook group for support, inspiration, and fun.
If you love this recipe, please give it 5 stars! ★★★★★
📋 Recipe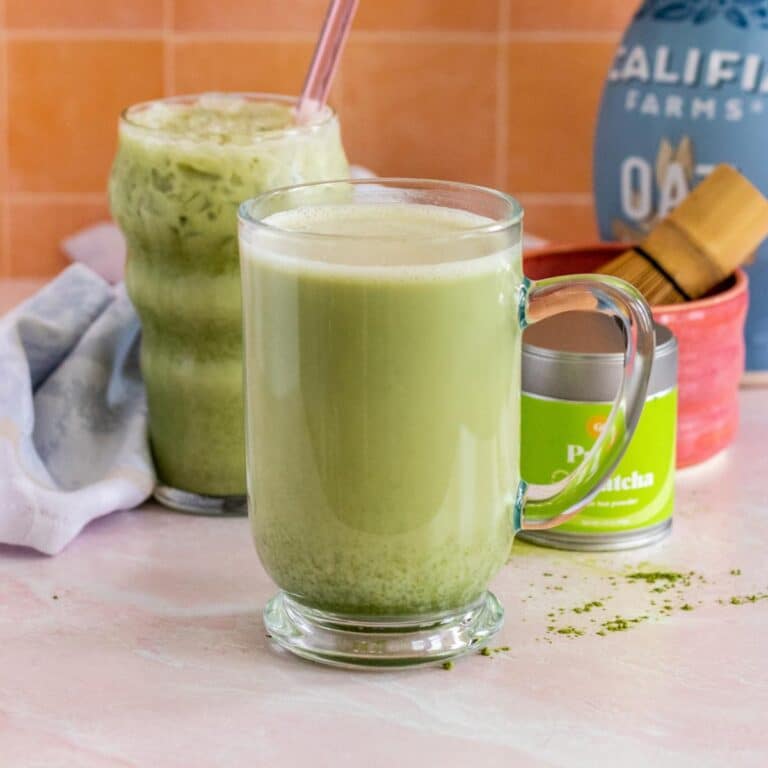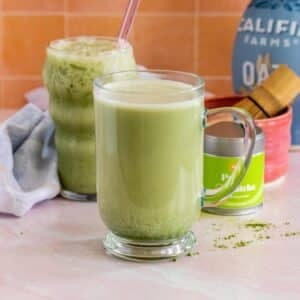 Oat Milk Matcha Latte (Hot or Iced)
Skip the coffee shop and learn how to make a creamy vegan oat milk matcha latte at home, both hot and iced, with only 3 ingredients!
Print
Pin
Rate
Ingredients
1

teaspoon

matcha powder

¼

cup

hot water

,

(approximately 175°F/80°C)

1

teaspoon

pure maple syrup*

,

(or to taste)

½

cup

oat milk**

ice

,

cubes or crushed (if making an iced latte)
Instructions
Prepare the matcha by adding the matcha powder to a small bowl and pouring the hot water over it. Whisk thoroughly until no clumps remain.

Add the maple syrup to the prepared matcha and whisk again.
To make a HOT matcha latte:
Pour the prepared matcha into a mug.

Meanwhile, heat the oat milk in a small saucepan on the stove or in a microwave-safe glass until warm. Pour the milk over the matcha, stir, and enjoy.
To make an ICED matcha latte:
Add ice to a glass and pour the prepared matcha over it.

Then add cold oat milk over the matcha, stir, and enjoy.
Save this recipe to your favorites!
Click the blue heart on the right of your screen.
Notes
*If you're not sure how much sweetener to use, start with 1 teaspoon. You can stir in more once you've added the oat milk, if desired.
**Not all oat milks are the same. You may have to try a few before you find the one you like the most. Some contain added sugars and oils, so if this is a concern for you, be sure to read the ingredients label carefully.
Nutrition
Calories:
95
kcal
|
Carbohydrates:
17
g
|
Protein:
4
g
|
Fat:
1
g
|
Sodium:
57
mg
|
Potassium:
75
mg
|
Fiber:
1
g
|
Sugar:
14
g
|
Vitamin A:
446
IU
|
Calcium:
180
mg
|
Iron:
2
mg
Nutritional information is an estimation only.
More Vegan Beverage Recipes
Reader Interactions