Vegan Mix & Match Sauces
Quick and easy recipes to take your meals from dull to delish
Ever wondered what's the secret to preparing restaurant-quality meals at home?
IT'S THE SAUCE.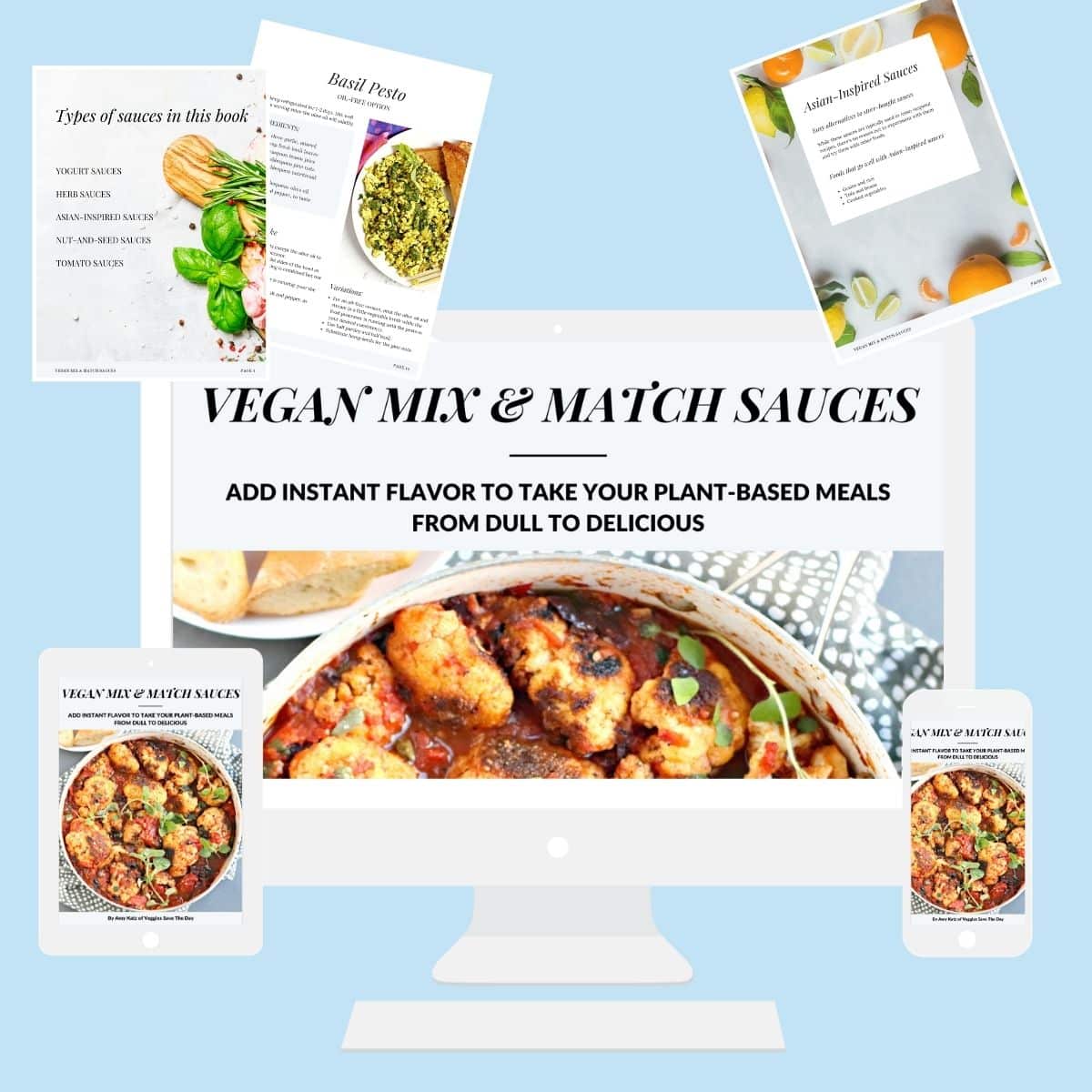 Professional chefs know the secrets for taking dishes from ordinary to extraordinary. And 9 times out of 10, it's the sauce.
But you don't have to go to culinary school to learn how to make your vegan meals more enjoyable.
That's where Vegan Mix & Match Sauces comes in.
All you need are a few customizable sauce recipes to make any plant-based meal crave worthy.
What's included in this eBook:
5 categories of vegan sauce recipes (dairy-free yogurt sauces, herb sauces, Asian-inspired sauces, nut-and-seed sauces, tomato sauces)
Variations of each sauce so you can change them up with different ingredients and flavors
Serving suggestions for using each type of sauce
Recipes you can use with grains, bread, pasta, beans, tofu, vegetables, salads, and more
Instructions for storing leftover sauces
Hi! I'm Amy Katz, and my passion is teaching others how easy it is to create delicious vegan meals. As a Certified Vegan Nutrition Health Coach, I share recipes requiring minimal time and ingredients that make creating plant-based meals a breeze.
Questions smart people ask
Are the recipes oil-free?
Only 4 of the recipes in this eBook require oil. The rest are either oil-free or include an oil-free option.
Can the recipes be made gluten-free and nut-free?
All of the recipes can be made gluten-free. A few contain cashews but can be made with sunflower seeds instead if you are allergic to tree nuts.
Will I receive anything in the mail after I purchase?
No. This product is 100% digital and will be delivered to you by email.
Do I need a special e-reader or any special equipment?
This eBook is a PDF, so you can read it on your computer, tablet, and smartphone. (No special e-reader required.) And it's formatted to print on regular 8.5×11″ computer paper so you're welcome to print a copy.