Vegan Boba Tea is easy to make at home. You only need a few ingredients in order to enjoy this refreshing beverage any time you want in all your favorite flavors. So skip the tea shop and learn how to make your own bubble tea!
This shop has been compensated by Collective Bias, Inc. and Bigelow. All opinions are mine alone. #TeaProudly #CollectiveBias
Have you ever tried boba tea?
It's also known as bubble tea.
This beverage became popular in Taiwan in the 1980s.
And now you can find boba shops all over the United States as well.
Usually the tea is served cold and is mixed with either fruit or milk, or sometimes both.
And the bubbles or boba are the chewy tapioca balls at the bottom.
It may sound complicated, but it is really easy to make this chilled beverage at home.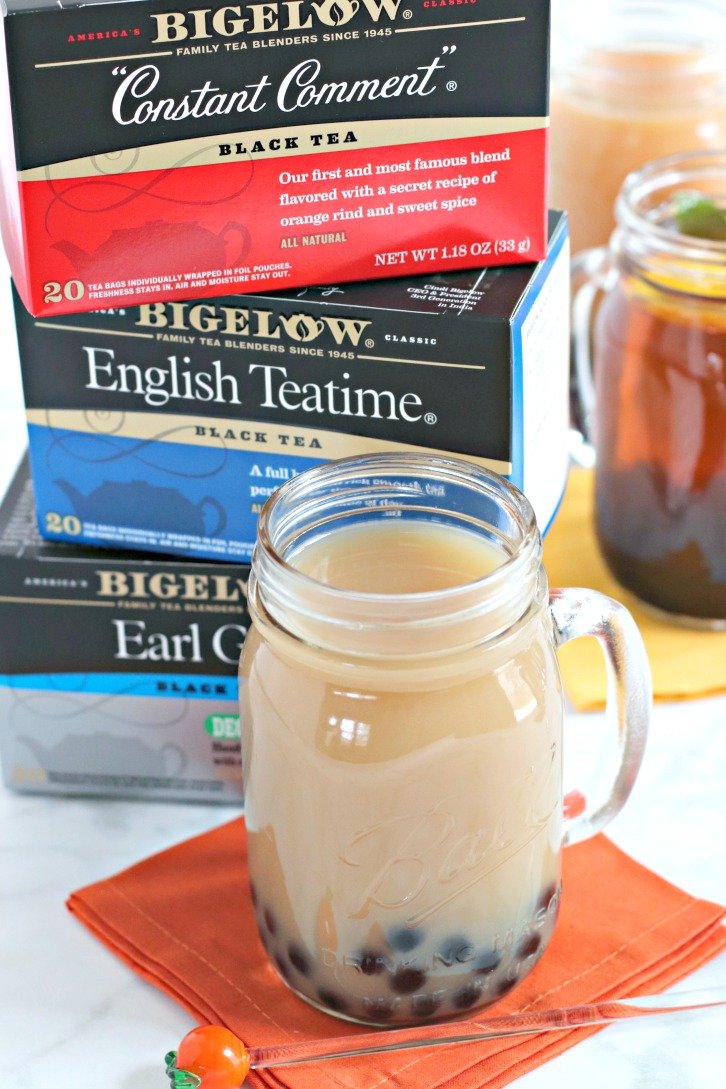 I particularly enjoy iced black tea, so I always buy my favorites from Bigelow including Constant Comment, English Breakfast, and Earl Grey.
I usually purchase both the original versions and decaffeinated so there's something for everyone.
Did you know Constant Comment dates back to 1945?
I love that Bigelow is manufactured in the United States using quality ingredients.
Plus their tea stays fresh in its foil packaging.
I remember my mom always kept a wide selection of Bigelow teas in our kitchen when I was growing up.
And there was always a fresh pitcher of iced tea in the refrigerator.
We would enjoy tall glasses of refreshing tea with lemon wedges in the back yard throughout the summer.
Drinking it now brings back fond memories.
And it's perfect for serving during summer barbecue season.
Now I've added a new family tradition to the mix by serving Vegan Boba Tea.
Try it at your holiday cookout with some grilled teriyaki tofu, hearts of palm salad, and blueberry crumble.
I used to think making bubble tea was complicated, but then I learned how easy it is.
And I love how you can make it whatever flavor you want.
But even though I might add some non-dairy milk or a slice of fruit to my glass, I can still taste the delicious flavor of the tea.
To make boba tea, you start with strong iced tea.
You can make the tea ahead of time if you want and keep it chilled in the refrigerator.
The tapioca pearls only take about five minutes to cook.
Then you let the balls cool in an ice bath, and then let them sit in a little sweetener if you like.
When you're ready to enjoy a cold glass of bubble tea, simply add the balls to a glass, pour over some iced tea, then dilute it with a little cold water or non-dairy milk.
The video shows how easy it is.
And you can add any additions you like, such as a slice of lemon or sprig of mint.
While you may be tempted to cook the entire package of boba tapioca pearls at once and store them in the refrigerator, they do start to harden after about two hours.
I recommend only making what you're going to use right away.
Besides, they are so fast to cook and cool, you can always make more if you decide you want another glass of bubble tea!
Now grab your favorite Bigelow tea and let's make Vegan Boba Tea!
Vegan Boba Tea
Vegan Boba Tea is easy to make at home. You only need a few ingredients in order to enjoy this refreshing beverage anytime you want in all your favorite flavors. So skip the shop and learn how to make your own bubble tea!
Print
Pin
Rate
Email recipe + ingredient list
Ingredients
¼

cup

boba tapioca pearls

1

Tablespoon

agave syrup

,

or sweetener of choice (optional)

1

tea bag

non-dairy milk

,

to taste (optional)

lemon slices, mint, or other fruit slices

,

to taste (optional)
Shop the ingredients for this recipe
Instructions
Prepare the boba tapioca pearls according to the package directions or as follows: add the tapioca pearls to a medium pot of boiling water. When the balls rise to the top after about 2 or 3 minutes, cover the pot and remove it from the heat. After 2 or 3 more minutes, the balls should be soft. Remove them from the hot water and let them cool in a small bowl of ice water. (See Recipe Notes.)

Once the tapioca balls are cool, drain the ice water. If desired, drizzle them with agave syrup or your sweetener of choice.

Meanwhile, prepare the tea by adding the tea bag to 8 ounces of hot water. Let steep for about 10 minutes. Then allow the tea to chill in the refrigerator. (See Recipe Notes.)

When the tea is chilled and the boba tapioca pearls are ready, place the boba in a 16 ounce glass.

Next, add the chilled tea to the glass.

Then add up to 8 ounces cold water and/or non-dairy milk until the tea is your desired strength.

Add any additional ingredients you like such as a lemon slice, mint leaves, or other fruit.
Notes
The tea can be brewed ahead of time and chilled in the refrigerator until ready to use. You can also make an entire pitcher of tea if you plan on making more than one serving of boba tea.
The boba tapioca pearls shouldn't be cooked too far in advance because they will start to get hard after about 2 hours. It's best to make them for immediate use.
Nutritional Facts do not include non-dairy milk.
Nutrition
Calories:
145
kcal
|
Carbohydrates:
36
g
|
Sodium:
35
mg
|
Fiber:
2
g
|
Sugar:
14
g
Nutritional information is an estimation only.
Want to learn the 5 Secrets to Cooking the Vegan Mediterranean Diet Way? Join the the FREE 5-day mini course and get the secrets delivered to your inbox.
Reader Interactions