BuzzFeed posted an article on February 1, 2016 showing how affordable and easy it is to prepare a week's worth of dinners for two by spending approximately $20 at Trader Joe's. You may have seen 1 Trip To Trader Joe's + $20 = 5 Easy Vegan Dinners shared on Facebook and other social media sites. The original article from Spoon University, Make a Week's Worth of Vegan Dinners for Two for Only $20 at Trader Joe's, has been "liked" over 175,000 times!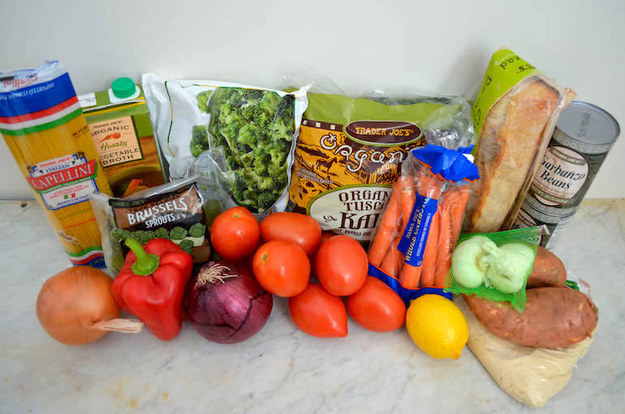 Image courtesy of BuzzFeed.
Some of my friends from the Power to the Veg! Facebook group have decided to try this challenge, and I thought it would be fun to document my results and ask my lovely readers to participate with me. I will be posting the daily recipes I recreate from the BuzzFeed article, and I encourage you to cook along with me each day.
Each meal will make two servings for dinner. Alternately you could double each recipe to serve four, or if you are cooking for yourself, you'll have lunch for the next day to take to work or school.
Your homework for this weekend is to go shopping at Trader Joe's. You will also need to set aside about an hour to do a little prepping and roasting. I will be making the recipes gluten-free, but still using ingredients from Trader Joe's. The alternate ingredients I will be using are listed in parenthesis next to the original ingredients. I also decided to purchase organic ingredients whenever available, so I spent a little more than $20. The choice is yours.
BuzzFeed Trader Joe's Grocery List:
1-16 ounce package angel hair pasta (or gluten-free pasta such as Trader Joe's brown rice and quinoa spaghetti)
1 carton vegetable broth
2 cans garbanzo beans
1 large yellow onion
1 large red onion
1 red bell pepper
7 Roma tomatoes (or tomatoes on-the-vine)
1 lemon
1-10 oz. bag kale
1-16 oz. bag carrots
2 heads garlic
2 large sweet potatoes
1-16 oz. bag frozen Brussels sprouts
1-16 oz. bag frozen broccoli
1 package pizza dough (I will be experimenting with either corn tortillas or brown rice tortillas to make gluten-free pizzas.)
1 roll Ciabatta (or Food For Life Brown Rice bread (Trader Joe's gluten-free bread is NOT vegan))
Sunflower seeds
You will also need the following pantry staples: olive oil, salt, pepper, ground cumin, chili powder, smoked paprika, low-sodium soy sauce or tamari, and Sriracha (optional). Fortunately you should be able to pick up these at Trader Joe's while you're there if you need any of these ingredients.
As mentioned, the second part of your homework is to prepare and roast some vegetables that we will use throughout the week starting Monday. The author notes that each recipe will take less than 20 minutes to prepare if you roast the vegetables ahead of time, so spending less than an hour Sunday evening will be worth it.
Check out these instructions for roasting the vegetables for the week ahead. While the photos in the post look like the vegetables are seasoned, there was nothing in the instructions about this, so I roasted my vegetables without any oil or seasoning. Note that the sweet potatoes will only be partially cooked during this step.
Who wants to join me in this challenge? Let me know in the comments!